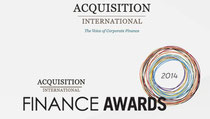 Kendall Accountancy Services has been awarded Acquisition International's SME Accountancy Firm of the Year award for Humberside.
The awards, now in their second year, highlight the amazing work done by the firms around the globe making huge strides in the ultra-competitive finance sector, from the most innovative lawyers, advisers and tax specialists to 100% customer-focused accountants, consultants and bankers.
Managing Director Matt Kendall said "We are delighted to have been recognised for going the extra mile for all of our clients and I am really proud to be given such a prestigious award"
The awards are handed out solely on merit and are awarded to only the most deserving businesses who have been nominated by their clients, peers and industry experts, for their outstanding work over the past 12 months.
Speaking about the awards, coordinator, Siobhan Hanley said: "Finance is without a doubt one of the biggest and most widespread sectors we cover at Acquisition International, making competition for these awards particularly strong.
"Not just any business can be nominated for one of these awards and only the most forward-thinking, committed and results-driven firms, who have consistently produced standout work will walk away with one of our prestigious trophies."
To view the complete list and accompanying awards supplement, please visit:
About Acquisition International
Acquisition International is a monthly magazine brought to you by AI Global Media Ltd, a publishing house that has reinvigorated corporate finance news and reporting. As an editorially driven magazine, its topical news articles make it a highly enjoyable read, and this readability ensures that advertisers will benefit greatly from their investment.
AI works alongside leading industry analysts to ensure it publishes the most up-to-date figures and analysis. Through regular features and our regional, sector and specialist reviews, AI thoroughly researches and publish today's corporate finance news in cooperation with the leading professionals in the industry.