Why join a Flat Rate VAT Scheme?

You get to keep the difference between the VAT you charge your customers and pay over to HMRC. For example, a hotel or accomodation company, who receive 20% VAT from their customers would only have to pay 10.5% over to HMRC.
Am I eligible?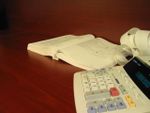 In order to be eligible you need to be a VAT registered business and expect your VAT taxable turnover to be less than £150,000 in the next 12 months.
You will not be eligible if you have left the scheme or have committed a VAT offence in the last 12 months.
For more information on eligibility please see here.
How do I join?
To join simply apply online when you register for VAT. Alternatively you can apply by post by filling in a VAT600 FRS.
If you becomeno longer eligible or simply want to leave, you can do so by writing to HMRC.
How do I know what my Flat Rate would be?
To find out the Flat Rate for your business please click here.

If you need any further advice as to whether this scheme would be right for you, do not hesitate to contact us, we would be happy to assist.